Yesterday I decided to do something different and took the train out to Hurstbridge, 28km NE of Melbourne CBD, 38km by rail.
The railway was extended to Eltham in 1902 and then to Hurstbridge in 1912. The Eltham-Hurstbridge section was electrified in 1926. Parts of the line are still single track though a number of these sections have recently been or are currently being duplicated. The last part of the line passes through native bushland.
The area that is now Hurstbridge was first settled by Cornelius Haley in 1842. He engaged Henry Hurst as manager. In 1857 Henry and his family took over the estate. Significantly, he built the first log bridge across the Diamond Creek.
Sadly on 4th October 1866, Henry Hurst was fatally wounded by a bushranger, Robert Bourke. Bourke was tried, found guilty of murder and hanged.
The township was progressively known as Allwood, Upper Diamond Creek, Hurst's Bridge, Hurst Bridge and, since 1954, Hurstbridge.
Although dry and sunny it was a cold day so I didn't spend long there but am hoping to return for the Hurstbridge Wattle Festival (last Sunday in August). One of the promised attractions is that Steamrail will be running steam-hauled shuttle trains.
The excellently signed heritage trail (PDF) takes in thirty buildings and other places of interest; I got to see about half of them.
Of particular note was the Little Bank Building, constructed so that it could be pulled from site to site by a team of horses or bullocks, and Saunders Garage, built 1912 as an engineering workshop then used as a motor mechanics since 1952. In addition, the op (charity) shops could have engaged me for a good while.
Then back to the station for the city-bound train – during the day it's a 40-minutes service.
I broke my journey at Eltham to take a look at the historic trestle bridge. It's the only surviving timber trestle bridge on the Victorian rail network. In the 1980s a plan to replace it was strongly resisted by local residents. They won and the bridge survived. It is now heritage listed.
The bridge is 195m long, 38 spans, and roughly 120 trains pass over it each day. It's 121 years old … well not really, since none of the original members remain. When members are replaced the installation date is chiselled into the new member.
Then home – a good trip.
Taitset YouTube videos: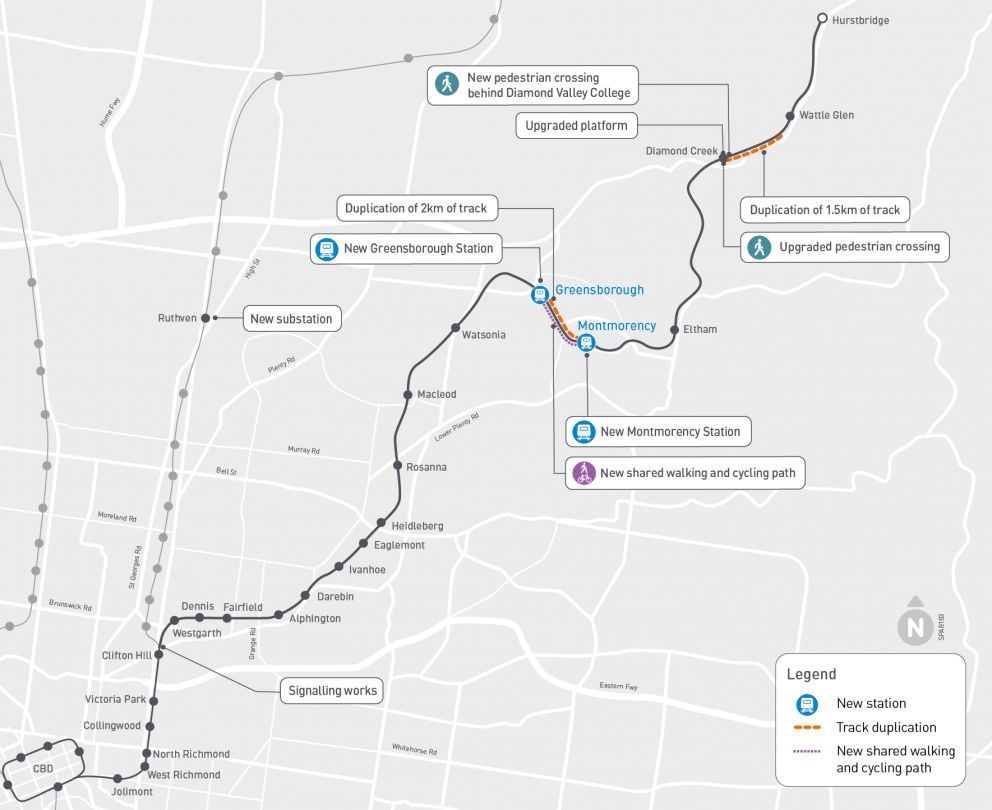 Hurstbridge line map showing duplication works in progress (Victoria's big build)